PJOE Held the First Cutting Ceremony for Bluewater Lufeng 12-3 FPSO ITMS Fabrication Project
Publish time:2022-05-30 Number of clicks :2645 颜色: 尺寸: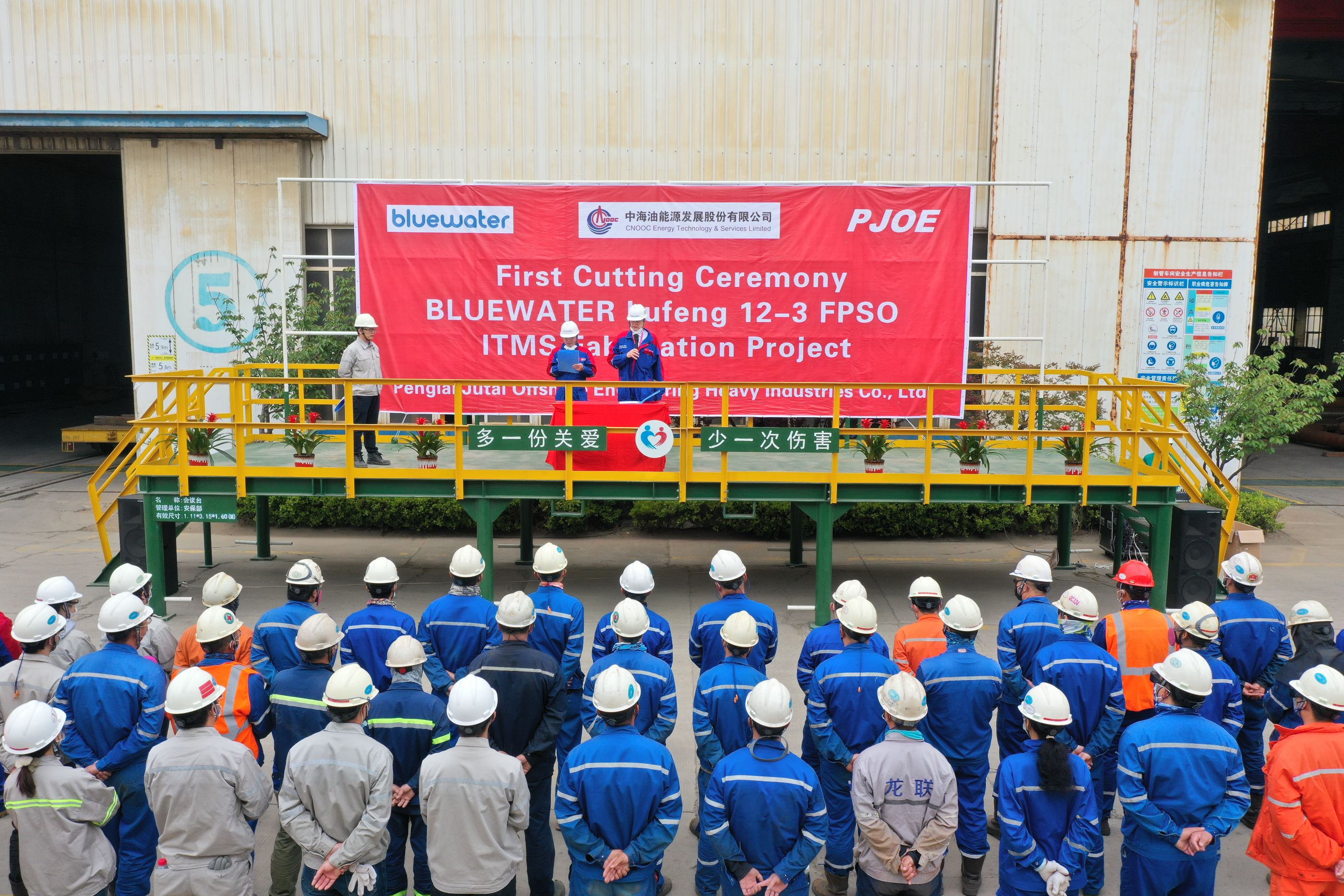 On the morning of May 12th, 2022, PJOE held the First Cutting Ceremony for Bluewater Lufeng 12-3 FPSO ITMS Fabrication Project and representatives from CENER TECH, Bluewater, ABS and PJOE attended this ceremony and later together witnessed the first steel plate cutting, which marking the formal start of ITMS onsite construction.
Zhang Baolei, deputy chief engineer of Lufeng 12-3 FPSO PMT of CENER TECH, said that he was honored to cooperate with Bluewater and PJOE. In the face of the complex international trade environment, the spread of the epidemic and many other challenges, the participating units of the project deployed countermeasures in advance and solved one problem after another. He hopes that all participates can make unremitting efforts and cooperate to ensure that the project is delivered on time.
Michiel Ming, Bluewater's senior project manager, said that PJOE project team is very organized and disciplined, which also works hard and well. It is logical and wise to cooperate with PJOE again. Michiel Ming firmly believes that through the joint efforts and good communication of Bluewater, PJOE, ABS and CENER TECH, Lufeng 12-3 FPSO ITMS project will be guaranteed with high quality and timely delivery.
Qu Hao, manager of ABS Yantai District, said that ABS, as a classification society, has an important influence in the global offshore engineering market, and the offshore engineering project is also one of ABS's traditional advantages, with rich experience in design review and construction inspection. He believes this project will be a successful project with win-win cooperation between all parties.
Liu Dongtao, executive deputy General Manager of PJOE, pointed out that CENER TECH and Bluewater are both long-term partners of PJOE, and ABS is stationed in PJOE all year round to guide production, and they maintain good communication and exchange with each other. PJOE is very grateful for the trust of customers and clients. PJOE has rich experience in construction and has made some achievements. The project team will give full play to its advantages and strive to achieve project with high quality, safety and timely delivery under the strong support of customers, clients and the third party.
At 11:00, the project member ignited the gas and started the first steel plate cutting, marking the official start of the ITMS Fabrication.
It is reported that the Lufeng 12-3 FPSO is a 100,000-ton double-hull FPSO designed for the Lufeng 12-3 Oilfield Development Project, with a design life of 30 years. The water depth of its mooring center is about 236 meters, and the Single Point Mooring System equipped with integrated internal turret is used for the first time in China, and the operating water depth is 240 meters.